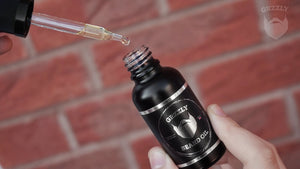 Grzzly The Crown Oud Beard Oil (30ml)
The Crown Oud Beard Oil
The Crown scent profile is intoxicating twists of fruit layers, fresh blueberry, followed by candy apple, woodsy oud, tangy raspberry & peachy goodness. Handcrafted with perfection, The Crown is truly one of the best beard care oils one can seek for healthy beard growth.
Strength: Between medium and strong
Scent: Blueberries, green apple, mango, oud wood, raspberries, peach & rose.
Buy a Bundle across same scent profile and save up to 17%! 
Beard Oil + Butter + Balm: Save £8.15 (17%)
Beard Oil + Butter or Balm: Save £4.80 (15%)
Oils: Jojoba oil, sweet almond oil, argan oil, avocado oil, vitamin E oil, essential oils & fragrance Oils
Allergic Information: Contains Almond oil which may cause an allergic reaction.
How to Use Grzzly Beard
Oil
:
Apply a small amount (3-6 drops, depending on your beard length) of Grzzly beard oil to the palm of your hands, rub together evenly, apply to beard, work from root to tip of the beard.
Benefits of Using Grzzly Beard Oil-
✓ Smooth & Soften Your Beard
✓ Shape & Tame Unruly Beard Hair
✓ Remove Beard Itch
✓ Encourage Beard Growth & Thickness
✓ Eliminate Fizziness
✓ Moisturise Your Facial Fur
✓ Give Your Beard a Non-Greasy Finished Look
✓ Step Your Beard Game Up
Check out The Crown review
Free Shipping on Given Orders
UK mainland:
Cost: Free shipping on all UK orders of £40 or above or else £3.49 per order.
Delivery method: Royal Mail 1st/2nd Class 'Signed For' service.
Delivery time: 1 - 4 working days.
Europe, North & South America, Canada, Oceania (Australia):
Cost: Free shipping on all orders over £65.19 (approx.US$80) or else £14.99 (approx. US$19.06) per order.
Delivery method: 'Royal Mail International Tracked & Signed For' service.
Delivery time: 3 - 7 working days.
NOTE: due to the U.K leaving the E.U, orders shipped international may have custom/duty charges applied
For rest of world: Please contact us.
Shipment Processing:
Shipments go out on working days (Monday to Friday). Orders placed on Saturday after 1:00 pm GMT will be shipped on early hours of Monday. UK bank holidays will not be classed as a business day. Delivery may be delayed during high demand seasons.
Storage
Grzzly beard grooming products are handmade from organic and natural products with no added preservatives. After each use, to preserve quality and maximise lifespan we advice you to secure firmly and store in room temperature away from direct sunlight.
Lifespan
12 months from opening.
Hazard & Caution
Avoid contact with eyes. If product enters the eyes, immediately rinse with warm water. Seek medical advice if necessary.