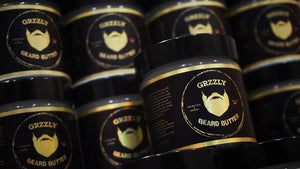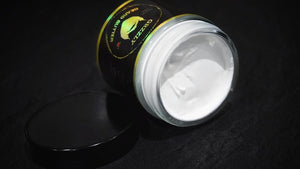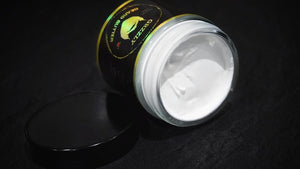 Grzzly Beard Butter (2oz)
Grzzly Beard Butter (2oz)
Ideally used for healthy beard growth and thickness, Grzzly's perfectly whipped beard butter is a moisturiser for both the beard and skin beneath. This soft and fluffy moisturising butter tackles dry skin very well while softening the beard because of its easy penetration past the hair's cuticle.
 Our butter spreads with ease through the beard, detangling as you brush or comb. Great for the night beard care routine by helping keep the beard soft, healthy and while minimising breakage.
We can proudly claim to be among the very first to introduce and popularize what is today the best beard butter in the UK!
Ingredients: Handmade using 100% natural & organic shea butter, mango butter, almond oil, jojoba oil, Jamaican black castor oil, essential oils and fragrance oils.
For Scent Guide click here
Buy a Bundle across the same scent profile and save!*
Beard Oil + Butter + Balm: Save up to 17%
Beard Oil + Butter or Balm: Save up to 15%
*To be eligible for this offer, the bundle must be created from any of our beard oil pages.
Allergic Information: Contains almond oil which may cause an allergic reaction.
How to Use Grzzly Beard Butter:
Use your finger to scoop out a thumbnail amount of Grzzly beard butter. Spread product evenly across both hands, apply from neck to cheeks working it well into the beard. Massage into skin. Complete styling with a beard brush or beard comb.
Benefits of Using Grzzly Beard Butter :
✓ Smooth and Soften Your Beard
✓ Shape & Tame Unruly Beard Hair
✓ Remove Beard Itch
✓ Encourage Beard Growth
✓ Eliminate Fizziness
✓ Moisturize Your Facial Fur
✓ Give Your Beard a Non-Greasy Finished Look
✓ Step Your Beard Game Up
 Our beard butter is rated one of the best in the game! Watch Faithfully Bearded tell you why
Free Shipping on Given Orders
UK mainland:
Cost: Free shipping on all UK orders of £40 or above or else £3.49 per order.
Delivery method: Royal Mail 1st/2nd Class 'Signed For' service.
Delivery time: 1 - 4 working days.
Europe, North & South America, Canada, Oceania (Australia):
Cost: Free shipping on all orders over £65.19 (approx.US$80) or else £14.99 (approx. US$19.06) per order.
Delivery method: 'Royal Mail International Tracked & Signed For' service.
Delivery time: 3 - 7 working days.
NOTE: due to the U.K leaving the E.U, orders shipped international may have custom/duty charges applied
For rest of world: Please contact us.
Shipment Processing:
Shipments go out on working days (Monday to Friday). Orders placed on Saturday after 1:00 pm GMT will be shipped on early hours of Monday. UK bank holidays will not be classed as a business day. Delivery may be delayed during high demand seasons.
Storage
Grzzly beard grooming products are handmade from organic and natural products with no added preservatives. After each use, to preserve quality and maximise lifespan we advice you to secure firmly and store in room temperature away from direct sunlight.
Lifespan
12 months from opening.
Hazard & Caution
Avoid contact with eyes. If product enters the eyes, immediately rinse with warm water. Seek medical advice if necessary.